Season of Prayer for Creation
Week Five
September 28 – October 4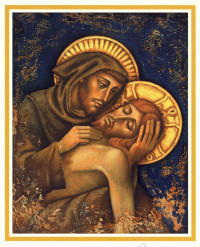 Praised by You, my Lord, through our Sister Bodily Death, from whom no living man can escape
Woe to those who die in mortal sin. Blessed are those whom death will find in Your most holy will, for the second death shall do them no harm.
Praise and bless my Lord, and give Him thanks and serve Him with great humility.
Call to Prayer:
All-powerful God, you are present in the whole universe and in the smallest of your creatures. You embrace with your tenderness all that exists. Pour out upon us the power of your love, that we may protect life and beauty. Encourage us in our struggle for justice, love and peace. We thank you for being with us each day. In Jesus' name we pray. Amen.
Reading:
Mindful that they are bearers of peace which must be built up unceasingly, they should seek out ways of unity and fraternal harmony through dialogue, trusting in the presence of the divine seed in every one and in the transforming power of love and pardon. Messengers of perfect joy in every circumstance, they should strive to bring joy and hope to others. Since they are immersed in the resurrection of Christ, which gives true meaning to Sister Death, let them serenely tend toward the ultimate encounter with the Father. ( Rule, Art.:19)
Moment of Contemplation (Take some time in silence.)
"This is what I want from you: to do justice, to love compassionately, and to walk humbly with your God." (Micha 6:8)
Reflection Question:
How do I trust in the presence of the "divine seed" in all of God's creation?
Action for the Week:
Participate in a Transitus Service. If you cannot get to one, then pray Evening Prayer I and/or the Office of Readings from the red Proper Offices of Franciscan Saints and Blessed in the Liturgy of the Hours.
Prayer for the Week:
All-powerful, most holy, most high, supreme God: all good, supreme good, totally good, You Who alone are good, may we give You all praise, all glory, all thanks, all honor, all blessing, and all good. So be it! So be it! Amen.